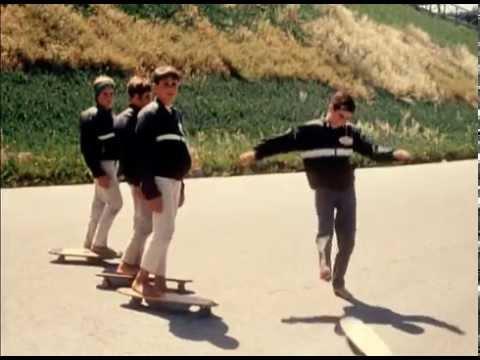 Skaterdater
One of the first, and very best, films to feature skateboarding. A group of kids styling around on clay wheels, walking the nose, and doing insane tricks on narrow little deathplanks! Skaterdater was the winner of the Palme d'Or for best Short Film at the 1966 Cannes Film Festival. It was also nominated for an Academy Award in the Best Short Subject category.

USA
1966, 17 min

Director

:

Noel Black

Director of photography

:

Michael D. Murphy

Screenplay

:

Noel Black

Music

:

Mike Curb, Nick Venet

Cast

:

Michael Mel, Melissa Mallory, Gregg Carroll, Gary Hill

Producer

:

Marshal Backlar, Noel Black
Noel Black
Noel Black (1937–2014) graduated from the University of California, Los Angeles. In 1966 he received the Palme d'Or at the Cannes Film Festival for his short film Skaterdater. Three years later he made his feature film debut Pretty Poison, a critically acclaimed and gloomy cult romance based on Stephen Geller's novel She Let Him Continue. After the relative failure of his next two film projects – Cover Me Babe (1970) and Jennifer on My Mind (1971) – Black went back into television, where he had originally begun. His greatest accomplishments in this medium include I'm a Fool (1976) and The Electric Grandmother (1982), an adaptation of a story by Ray Bradbury with Maureen Stapleton in the title role. A Man, a Woman and a Bank​ (1979) is a cops-and-robbers comedy starring Donald Sutherland. In 1985, Mel Damski filmed the romantic comedy Mischief, based on Noel Black's screenplay.